DOUGLAS COUNTY REAL ESTATE MARKET REPORT
Welcome to this month's Douglas County Nebraska real estate market report brought to you by Eric L. Brown Realtor.
If you are in the market for a new home, use our home search tool to find properties in your price range. Additionally, feel free to call 402-570-3797 and we can answer your home buying questions.
If you are thinking of selling your home, you can take advantage of our free home valuation tool to get an idea of your home's worth. We can list and market your home to qualified buyers to get your home sold quickly.
Douglas County Nebraska Housing Stats
The average closed sale price for homes in Douglas County Nebraska during September 2022 was $336,111; this is up from last September's average of $292,874 which is a +14.8% of change from last year.

*As of 10/17/22
There were 853 homes sold, 950 new listings, 587 pending listings, and a total of 926 active listings in the Douglas County Nebraska real estate market.
There is approximately 1.20 months of inventory available, homes are averaging 11 days on market before being sold, and sellers are getting 100.4% of their original asking price.
Market Summary [Graph]
Douglas County Listings Volume
Average Price Per Square Foot Paid for a home in the Douglas County Nebraska Area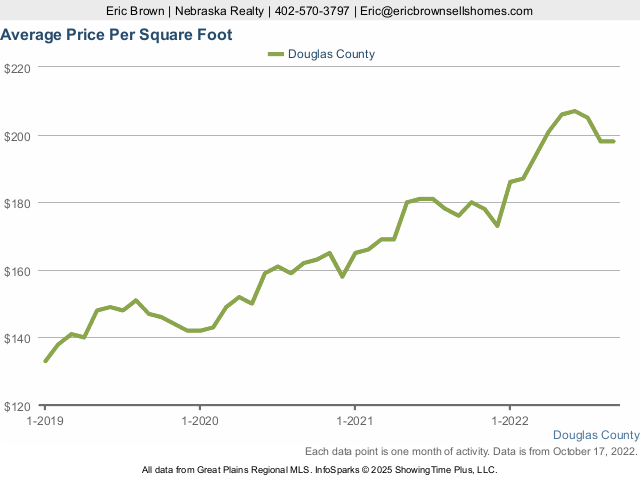 Others Have Asked
If you are thinking of selling and wonder how much your house might sell for in today's Douglas County Nebraska Real Estate Market, use this
instant home value estimate
or call (402)-570-3797.
Market Reports 2022
Market Reports 2021
Market Reports from 2020
Guide to Buying a House with a Real Estate Agent
Douglas County Homes for Sale
Wondering what your home might be worth? Find out instantly with our home value calculator.
Here are the most recent home listings just added to the database in the median sale price range for Omaha. All homes here are priced at $300,000 or less.
Summary
Article Name
Douglas County Housing Market Report
Description
A monthly report of the housing market in Douglas County Nebraska. This includes new and existing home sales that have occurred in recent months.
Author
Publisher Name
Eric L Brown REALTOR® HOME Real Estate